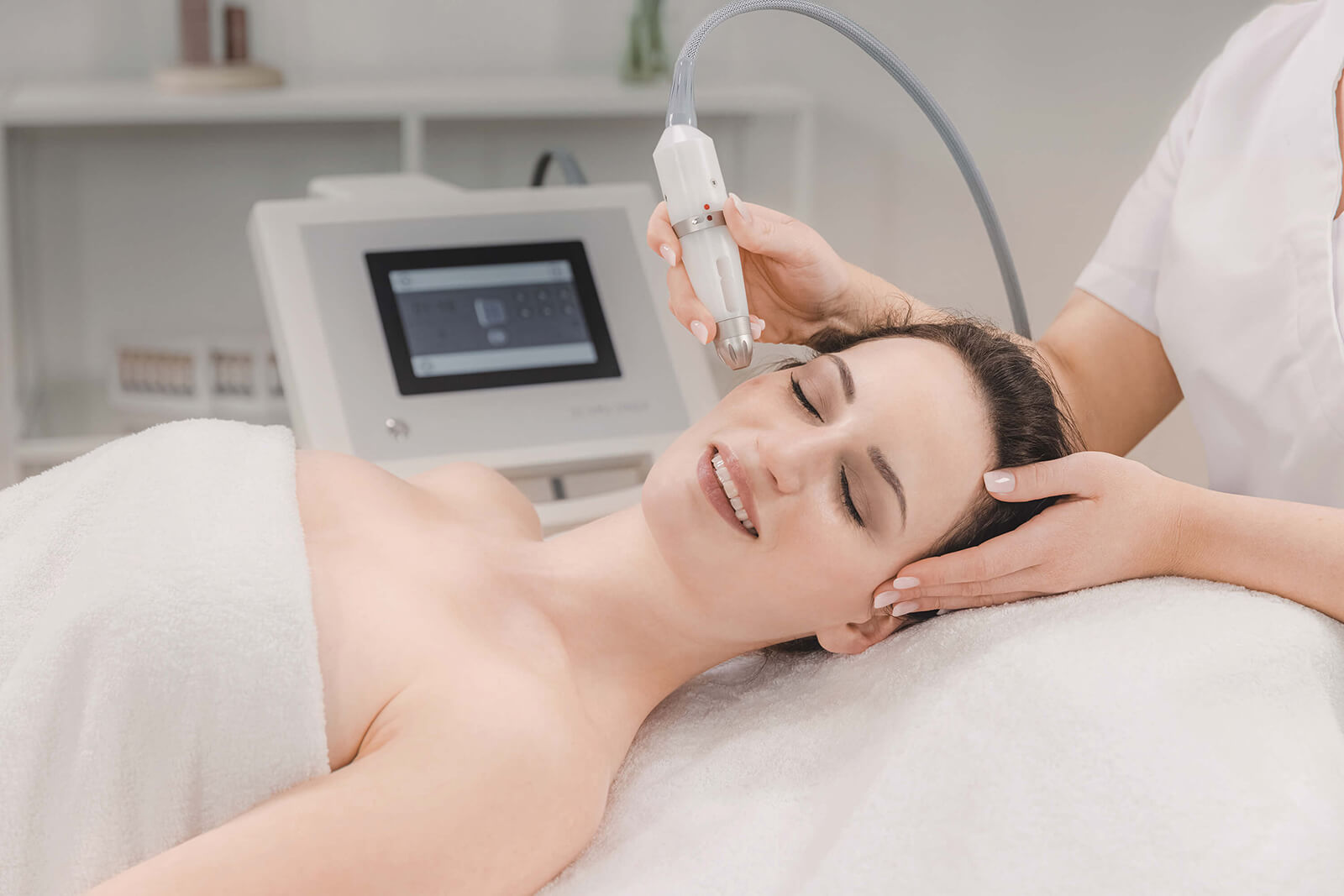 WHAT IS
DERMADROP TDA™
DERMADROP TDA™ is the only proven technology that allows you to introduce hyaluronic acid, vitamins, and active ingredients into the deep layers of skin without injections.
DERMADROP TDA™
– Swiss serums quality
– Perfection of German technology

WITHOUT INJECTIONS AND PAIN
The treatment does not require injections, does not leave traces of intervention, and does not envisage a recovery period.

CLINICALLY PROVEN
The depth of hyaluronic acid and active substances penetration into the skin is almost 3.5 mm.

INSTANT EFFECT
Already after the first session wrinkles smooth out, facial contours lift, the skin becomes radiant and deeply moisturized.

ABSOLUTELY SAFE
The possibility of complications and infection is excluded.

FOR ANY AGE AND SKIN TYPE
The procedure has no contraindications and is suitable for combating a wide range of problems.

Due to the unique technology, the active substances penetrate the dermal layers of the skin without injections, launching processes of skin regeneration and rejuvenation.
HOW DOES DERMADROP TDA ™ WORK?
OXYGEN PRESSURE
Dermadrop TDA ™ captures oxygen from surrounding air, ensures its deep cleaning, and then feeds treated medical oxygen under high pressure to the skin. Active substances reach the dermis without any damage to the skin.
SUPERSONIC SPEED
Under the high pressure and sound wave impulse impact, the serum components are saturated with oxygen and activated, while the speed of the particles' movement comprises 265 m/s and more.
ACTIVE CONDUCTING COMPLEX - LP3
The serum formula includes a patented LP3 complex that has a structure similar to the lipid layers of the stratum corneum. Such a "conductor" ensures easy penetration through the lipid skin barrier.
RESULTS OF DERMADROP TDA™ TREATMENT

Deep moisturizing and lifting effect
Smooth tone and skin texture
Lightening of pigment stains
DERMADROP TDA ™ OFFERS NEW POSSIBILITIES FOR YOUR BUSINESS. THE PROCEDURE THAT ATTRACTS CUSTOMERS ITSELF AND INCREASES EFFICIENTLY THE AVERAGE RECEIPT AMOUNT.
SERUMS FOR THE DERMARDROP TDA ™ TREATMENT

HYAL N5 TDA™
MOISTURIZING AND ANTIOXIDANT DEFENSE
Cocktail of low and medium molecular hyaluronic acid actively moisturizes, improves tone and skin relief, smooths out surface wrinkles. Vitamins, antioxidants, and micro-elements slow down the aging processes, return fresh look, radiance, and elasticity to the skin.

HYAL N10 TDA™
DEEP MOISTURIZING
A powerful complex of small and medium-molecule hyaluronic acid intensively moisturizes the skin, smooths its surface, and deep wrinkles. It slows down the aging processes, relieves signs of oxidative stress. Biorevitalization and rejuvenation.

CANABOOST TDA™
CELLULAR ACTIVATOR
Premium serum with Cannabis Oil for deep nutrition and transformation of the skin appearance. Activates protection against free radicals at the cellular level. Improves the regeneration of ceramides, restores and heals skin. Perfect serum for dry, damaged skin with signs of aging.

MITOCELL TDA™
REJUVENATION AND LIFTING
Serum with the highest concentration of ingredients against skin aging. It provides a powerful restorative effect, contributes to the synthesis of new collagen and elastin, relieves tissues' tension, removes swelling. It increases skin elasticity and significantly reduces wrinkles. Instant lifting effect.

PRODERM TDA™
TREATMENT OF PROBLEM-PRONE SKIN
Special cocktail of natural components to suppress inflammatory reactions in the skin. It actively reduces the manifestations of acne, improves regeneration processes, normalizes the work of the sebaceous glands. It has a bactericidal action, increases local skin immunity. It helps to reduce the chronic post-inflammatory spots. Perfect serum for problem-prone oily and sensitive skin.

POLAR TDA™
REJUVENESCENCE AND RADIANCE
Kojic acid and vitamin C remove hyperpigmentation, smooth out the tone and skin relief. Already after the first procedure the skin looks one tone lighter.

DERMACOOL TDA™
"EMERGENCY AID"
The active complex from Camphor Tree extract and Menthol soothes irritated skin, eliminates itching, removes local swelling and redness. This skincare product is ideal for eliminating the negative impact of UV rays, burns, circulatory disorders, cooperosis, as well as for rehabilitation after intensive cosmetic treatments.

FABULOUS TDA™
INTIMATE REJUVENATION
Serum contributes to the remodelling of tissues, stimulation of skin metaboliс processes, which enhances neocolalagenesis, lubrication, increases the sensitivity of nerve endings, and improves the neurofibres' conductivity.

NAILCURE TDA™
HEALTHY NAILS
Softens cuticles, prevents nails' fragility.

SHINE & GLOW TDA™
STIMULATION OF HAIR GROWTH
Comprehensive care for weakened, dull, damaged hair, splitting ends, has a medical and preventive effect against dandruff.

FIGHT TDA™ for men
ACTIVE STRUGGLE AGAINST AGING
Special serum to deal with signs of male skin aging. A powerful combination of active ingredients helps to reduce the number of wrinkles, nourishes and moisturizes the skin. Natural protective functions of skin improve, microcirculation is stimulated by contributing to cells renewal.

RESCUE TDA™ for men
PROTECTION FOR MALE SKIN
Special therapy for male skin problems. It removes redness, inflammation, and hyperemia. It removes irritation and excessive exfoliation after shaving. The combination of hyaluronic acid and Barley Seed extract activates the cellular turnover, speeds up regeneration, nourishes, and actively moisturizes the deep layers of the skin. Already after the first treatment, the skin acquires a healthy and well-cared-for look.
WHY DOES YOUR BUSINESS NEED DERMADROP TDA™?
There is no need to follow the sanitary-epidemiological requirements envisaged for health care centers, and arrange the disposal of class B medical waste.
The optimum cost of the treatment allows you to fix an affordable price which guarantees the loyalty of your existing customers and attracts new ones.
The treatment is recommended for any season which will ensure customers even during the low season.
Absolutely safe treatment ensures complete absence of risks for your patients and your business.
Thanks to its uniqueness, the Dermadrop TDA ™ device quickly pays back the investment (average payback period from 4 to 6 months) and begins to bring profit.
DERMADROP TDA ™ is efficient as a mono-procedure and in combined methods. Easy combination with other services will increase the average receipt amount and make happy your customer thanks to a pronounced instant result.
Roman Svintitski,
head of sales department
roman.svintitski(at)baltic-lasers.eu
(+372) 5555 2960
My name is Roman Svintitski, i am a head of sales department at Baltic Lasers company. I have been with the project for 3 years and it was and is an unbelievable experience. My goal is for each client to be satisfied with our service, for each patient to be treated with the right equipment and be happy with each one of our products.
After filling in the form, you will be contacted within one working day.